Clogged Kitchen Sink?
Need Your Kitchen Sink Garbage disposal fixed?
Give us a call today. We are open 24/7. All estimates are free with repair. Service Call is only $49.
We pride ourselves in our 24/7 emergency plumbing services for Kitchen Sink Garbage Disposal.  We always have a helpful technician waiting to assist you 365 days of the year.
Putting food down the drain is a modern convenience, thanks to the garbage disposer! Your garbage disposer provides you with a lot of convenience in the kitchen, so it's no surprise that it gets used quite a bit. Over time, this heavy use unfortunately takes its toll and often leads to problems. Combining an electrical motor, heavy resistance from food items, and sharp, spinning blades is a recipe for disaster if proper maintenance isn't performed on a regular basis.
If you think there is something wrong with your garbage disposal, the first thing you should do is call Local Garbage Disposal. Our Washington D.C. garbage disposal repair technicians have the skills and experience needed to get the job done fast, no matter what the problem.
Garbage Disposal Install and Repair Service
For years Local Garbage Disposal has offered most complete, best trusted garbage disposal install and repair services in Northern Virginia, Maryland and Washington, D.C., and we can do the same for you.  Just give us a call today and ask how we can help you with your kitchen sink garbage disposal repair service.
Garbage Disposal Installation
If we find that your waste disposal is beyond economical repair, our professional plumber will recommend the most efficient unit that meets your requirements and fits within your budget. When a garbage disposal replacement is needed, Local Garbage Disposal will install the unit, making appropriate connections to the power source and plumbing systems.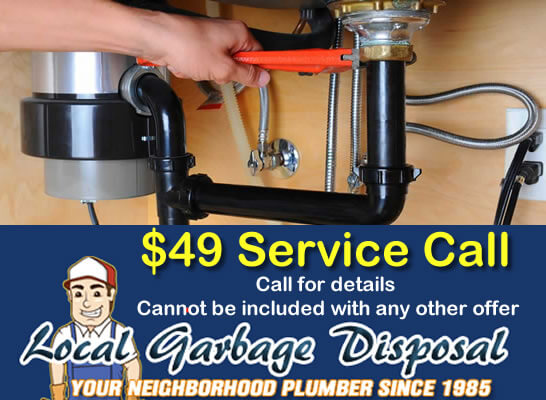 Why Choose Us?
Superior quality service

History of quality and satisfaction

I want to thank you guys for the awesome work you did for me.  Your promptness and professionalism is highly appreciated.
We are really pleased with the service you provided us.  We will recommend you to all our friends and neighbors.  Thanks again for the great service.
Thanks Local Garbage Disposal – you are the best!  You saved my party.  My garbage disposal broke on Thanksgiving!  Local Garbage Disposal rescued me!  I am so thankful.  You guys have been great!